Last week Jeffco citizens heard the Moss Adams presentation relating to their review of the Capital Improvement Program.
If you looked at Jeffco's Next Steps slide, you would think that only a few simple communications tweaks were needed.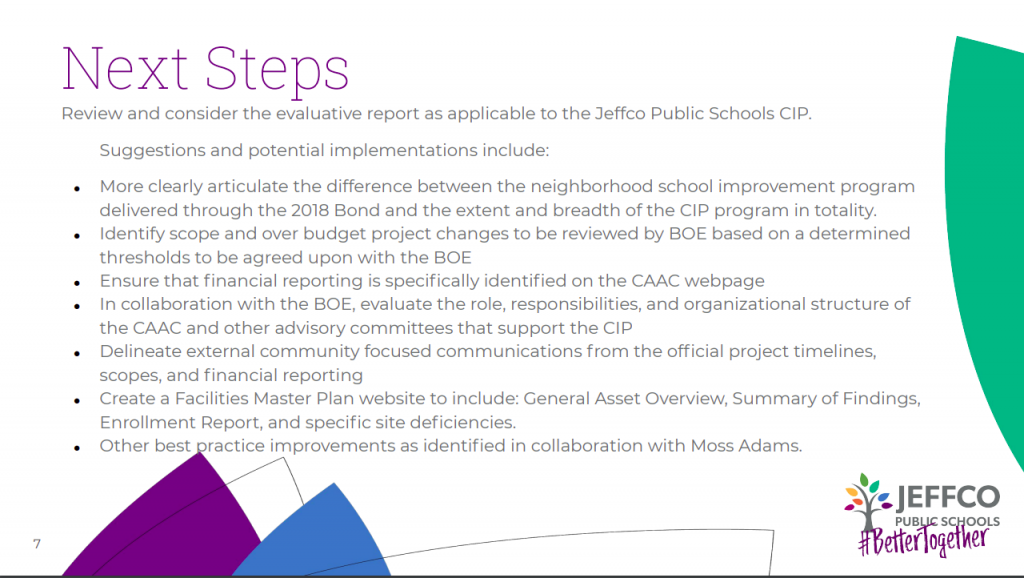 This was reinforced by Superintendent Dorland telling the Board that "Most projects are at or near budget".
However, if you read the full report, this couldn't be farther from the truth.
First, it is completely false that most district projects are at or near budget.
The Moss Adams report shows that 59% of In-progress projects are over budget, with 19% of all projects expected to exceed their budget by over $500,000.

It is worse for Completed projects where 67.8% are over budget, with 18.8% exceeding their budget by more than $500,000.

Dorland was wrong. If someone gave her that faulty information they should be fired. If she said that without doing the proper research, then she should be reprimanded. She should always give the Board accurate information.
Regarding the report, the findings and recommendations were much more serious than Jeffco staff wants people to believe.
Here are the highlights:
The current program cost estimate is now $136M more that what was initially shown to voters in 2018.
Bid tabulations or evaluations for the selection and award of projects were not available.
The District does not have policies and procedures specific to the change order process (i.e., review process, thresholds, approval process, approval levels, etc.).
These are egregious. Jeffco is talking about nearly 25% cost overruns (above the included 10% project contingency), with Reed telling the Board to expect another $43M in overages before the program is over.
Not having project selection evaluations means that the program is not transparent and is ripe for favoritism and or kick backs.
The same can be said regarding the change order process. This leaves the program ripe for vendor overcharging or kick backs.
None of these are good, but all were glossed over in the report review session.
To make matters worse, instead of acknowledging and addressing the Moss Adams findings and recommendations, all Director Rupert did was fault the consultants, make excuses and praise staff for the program.
It was appalling.
In addition, Rupert made a point that the program was not based on the 2016 Facilities Master Plan, when former CFO Kathleen Askelson, in her January 2021 bond review report stated that it was.
Rupert was wrong and Dorland was wrong.
The report was more damning than anyone wants to admit.
We can only hope that Dorland can clean the mess up, but her statements and actions to date don't give me much hope.