Recently there was a Question and Answer article in the Canyon Courier with school Board president Ron Mitchell.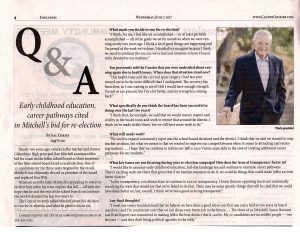 I found Ron's answers to the questions to be disappointing and disturbing. Not once did he mention improving academic performance or growth. They are certainly not in his list of accomplishments or even in his list of items that need work. Transparency is a nice goal, but shouldn't education performance be first and foremost? And as for his desire to "examine early childhood education", that realistically is not going to happen unless a boatload of money miraculously falls from the sky. This Board just doesn't seem to care about improving education in the county. Even as their words say this is true, their actions speak even louder. The absence of any performance-based compensation incentive in Dr. Glass's contract is a pretty strong indicator that improving education is not their first priority.
In addition, in a February 21st response to a letter I had previously sent to the Board, Amanda Stevens wrote:
" As a Board of Education we have set priorities based upon three main objectives:
competitive compensation to keep and attract quality staff,
maintaining school funding levels through student based budgeting (SBB) while trying to preserve critical programs and services for students; and,
ensuring school facilities are warm, safe, and dry."
There it is. Three Board objectives and not one of them is to improve academic performance or growth. These are quite similar to Ron's comments with no mention of what should really matter – Students and Education.
Something is very, very wrong with the Jeffco school Board. It's time for them to rethink their priorities and objectives and truly focus on students and improving education in Jefferson County.
Please follow and like us: