Recently, there has been a great deal of self-congratulating on the part of our School District and Superintendent relating to Jeffco's 2016-2017 test scores.
Most recently, we've seen an article published by the school district relating to CMAS Achievement.
While it is true that these results may be "all-time highs', let's be serious. Should we as parents and taxpayers be happy with results that show that barely 50% of our kids meet state ELA standards? It's even worse with Math where only 40%, or less, seem to be achieving the state standards. That seems to be acceptance of mediocrity, at best, to me.
However, what is even more disconcerting is the comparison of Jeffco scores to those of Eagle County, where our new Superintendent was "Chief Learner" for 4 years and had plenty of time, within a small district, to make a real impact.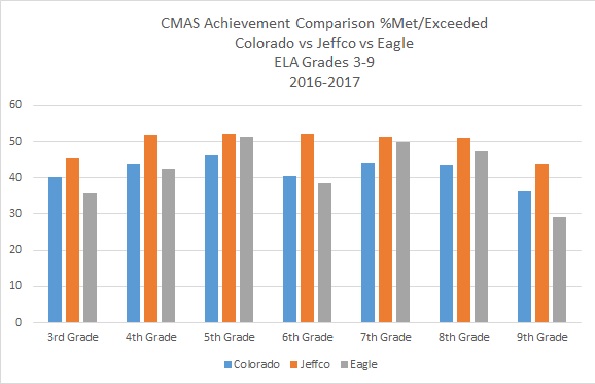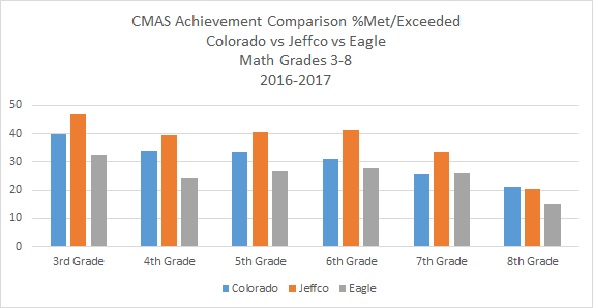 I don't see that impact. In fact, NOT one Grade level or Subject in Eagle has scores better than Jeffco's, most not even achieving the state "average". What should we expect in the years to come in Jeffco? A regression to state averages?
What was the Board thinking when they hired someone without a proven record of academic related results? Did they hire a blogger/tweeter over someone who actually has a proven record? Didn't the Board say that this was one of the most important decisions a Board could make? Did the Board even consider academic results or were they just bamboozled by a smooth talking social media specialist and "visionary"?
This Board didn't do their job on their most important task!
We needed someone who could really move the needle with our kids. Eagle County's results don't indicate we got that. Those results point to the failure of our Board. We have a dire need for change on the Board to really move Jeffco forward.
Please follow and like us: